The Narrative App brings Narrative Magazine to the iPad, iPhone, and iPod Touch and places the magazine's entire library at your fingertips, for free.


Narrative Magazine, named "the gold standard in online literary magazines," is the leading publisher of first-rank fiction, poetry, and nonfiction. A nonprofit organization, Narrative is dedicated to advancing the literary arts in the digital age by supporting the finest writing talent and encouraging readership around the world. Read stories from award-winning authors such as Sherman Alexie, Rick Bass, Ann Beattie, T. C. Boyle, Robert Olen Butler, E. L. Doctorow, Gail Godwin, Jim Harrison, Jhumpa Lahiri, Joyce Carol Oates, and James Salter. Our online library of new literature by both celebrated and emerging authors is available for free, at the touch of button. Carry Narrative easily with you anywhere and read anytime.
• Browse and select stories, essays, and poems from the current issue of Narrative as well as from our extensive archives.
• Read the stories using the easy-to-use, built-in eReader. Change the text size, color, and font to customize the eReader to your liking.
• View cartoons, graphic stories, and image galleries.
• Watch and listen authors reading their stories in the Narrative Outloud section.
• Enjoy the Story of the Week, Poem of the Week, Classics, Features, and our new ultra-short iStories and iPoems.
• Read downloaded stories when disconnected from the network (perfect for travel reading!). Save or delete stories on your device as you see fit.
• Turn content categories (Fiction, Poetry, Interviews, Cartoons, etc.) on and off, so that you see only what you're interested in.
Sign-up Required: When the application starts up for the first time, existing Narrative users are asked for their account's email address. New users are asked for their first name, last name, and email address and are then automatically registered. Users of Narrative Magazine are sent the Story of the Week and other emails by default but can easily opt out if they do not wish to receive these emails.


Donations: Narrative pays its authors, while it also provides the magazine to readers for free. Narrative is a nonprofit organization. A substantial portion of our budget comes from individual donations. If you value Narrative, please donate by clicking here.


Bug Reports and Feedback: If you encounter any bugs or have any suggestions for improvement, please send an email to App@narrativemagazine.com.
Screenshots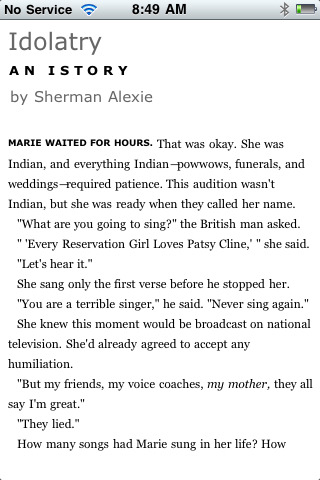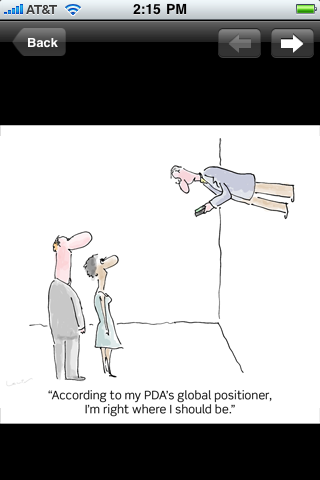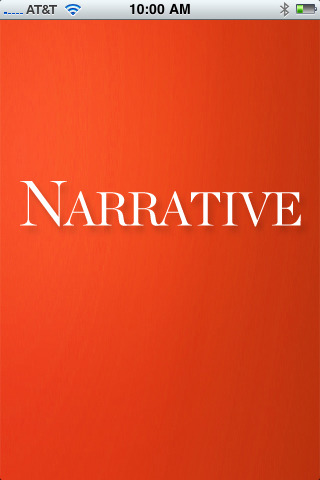 Customer Reviews
"Wonderful stories for my iPad"
by rb451
This app brings the wonderful stories of Narrative Magazine to the iPhone and iPad. It works especially well on my iPad because the screen is larger and the app uses the full-sized screen very well, but I'm also able to read the stories quite nicely on my iPhone.
"iPad Ready now!"
by Astapovo
The App is native for the iPad, and ready to go. Free, great content in an elegant reader. Enjoy!
"Very exciting!"
by Ace9699
Now my new iPad is starting to be what I wanted it to be with this great new app providing wonderfully edited prose and poetry. Great quality and richness.